The cryptocurrency trading scene now defines the old adage, "every man for himself." Without any form of government or state-backed regulation, a blockchain-based currency such as Bitcoin and its derivatives must rely solely on speculation to assess the flow of trading. With all the recent interest in this form of trading and the nature of their online transactions, it's no wonder cybercriminals are coming out of the woodwork to target the process.
Binance, the world's largest cryptocurrency exchange firm, with an estimated $1.3 billion market capitalization, has recently become a victim of a Syscoin-based buffer overflow hack. Because it is easier to trade than Bitcoin, a crypto known as Syscoin is now targeting the retail market. There are indications that cybercriminals have now found a way to mine a billion Syscoin, which the blockchain itself has already restricted to just 888 million.
With a large amount of Syscoins being generated in a short span of time, its overall value has been artificially inflated by 85% more than what is expected.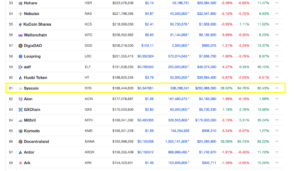 The creation of more coins essentially opened a small window of time where hackers were able to trade one Syscoin for 96 Bitcoins. Because this unbalanced trading process favors cybercriminals, Binance has forcefully stopped all trades involving Syscoins. During the event, One Syscoin used to be valued at $0.453290; however, this recent event has boosted it to $623,000 almost overnight.
In a quick Twitter feed, the official promoter for Syscoins, Syscoin.org, confirmed the halt of the trade to combat "odd trading behavior." But they also downplayed the issue and publicly announced, "#Syscoin blockchain is safe."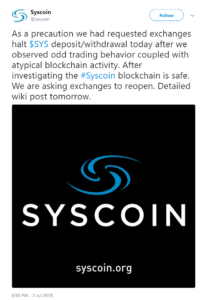 That said, Jameson Lopp, an accomplished blockchain developer has indicated otherwise, "Breaking the monetary supply rules for a cryptocurrency can't be accomplished via a 51 percent attack; this indicates that a flaw has been found and exploited at the protocol level. It's likely similar to the buffer overflow vulnerability that was exploited in Bitcoin in 2010 that allowed someone to create 184 billion BTC."
While many details in the case have yet to be revealed to the cryptocurrency community, Syscoin.org promises a comprehensive wiki article will soon be posted. A review of the Binance's API is also in the works, as the cryptocurrency exchange announced its willingness to reimburse those users who were disadvantaged by the heist, "To protect the future interests of all users, Binance will create a Secure Asset Fund for Users (SAFU). Starting on July 14, 2018, we will allocate 10% of all trading fees received into SAFU to offer protection to our users and their funds in extreme cases. This fund will be stored in a separate cold wallet."
Related Resources:
Opera Has Built-in Cryptocurrency Wallet in Android Browser
This Is Why Cryptocurrencies Will Always Be Unicorns
Why Cryptocurrency's Future Needs More Women Behind The Scenes
Why Mixing Your Cryptocurrency Is Still The Best Shot At Privacy